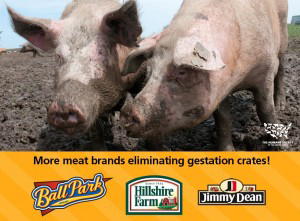 Fantasy #1: The Humane Society of the United States is not promoting the "compassionate" consumption of meat.
The HSUS caption with the Facebook post: "More great news for pigs! "Like" this to give props to these companies for doing the right thing. :)"
So let's support companies marketing meat and animal products that are doing "the right thing." Think about that message.
And HSUS CEO Wayne Pacelle makes it very clear that "happy" meat is a morally good thing.
I don't think that everyone needs to adopt a vegetarian diet to make a difference. I think that little choices that we make — getting animal products from a farmer who is raising animals in a proper and humane way or reducing consumption by a little bit — all of these things matter. You don't need to go the full measure in order to have an impact. One thing I don't want is people to feel paralyzed, that somehow you've got to fit some orthodox regimen in order to be a part of this. Absolutely not. Little decisions that all of us make can have an enormous consequences.
You can have an impact by eating meat and animal products "from a farmer who is raising animals in a proper and humane way."
So Pacelle is not only suggesting that products made "in a proper and humane way" are available, but that consuming them is consistent with treating animals as members of the moral community and caring morally about them.